Select the school where you want to attend your Italian Cooking Course!

The food of Friuli Venezia Giulia is made up of a variety of flavors, which actually unite the cultures present in the region. The local polenta-eating habits come from the Veneto. When mixed with milk, vegetables, beans and salumi, polenta becomes a meal, in and of itself. The names of the respective dishes are zuf, mesta, paparot, and jota.

A Central European influence is evident in the consumption of soups and dumplings rather than pasta. You will find barley soups, cialson, or spinach dumplingsfrom Carnia, plum dumplings and pistum, another type of dumpling made with raisins and breadcrumbs.

There are a number of cured meats, or salumi, from Friuli worth seeking out. Prosciutto di San Daniele DOP is perhaps the most well known and sought after. You should also look for Prosciutto di Sauris, which comes from Sauris, a small city in Carnia where it is smoked and aged; Prosciutto Carsolino; and the rare Peta from Valcellina, a sausage stuffed with beef, goat, pork and the meat from furry game animals.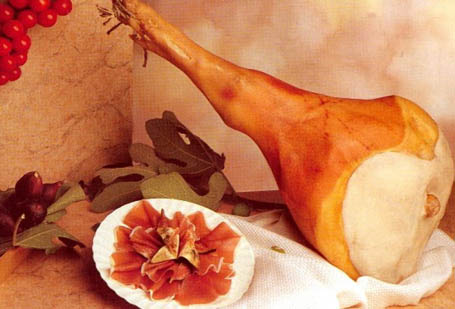 Prosciutto di San Daniele DOP
Muset, a sausage made from pork shin, snout and skin, pairs well with the sweet-sour taste of horseradish or brovada, a pickled turnip dish, similar to sauerkraut. Cevapcici is a Slavic dish of grilled pork, beef and lamb. Goose meat is also used to make salumi and smoked breast, thigh and sausage. Frico, a savory cheese crisp, is made with Montasio DOP, the most important regional cheese. Other local favorites include Latteria, Tabot and the salty, artisanal cheese of Carnia.

With Austria directly to the north, most of the regional desserts are interpretations of Austrian classics. Gubana is a type of fruitcake, as is presnitz. Strudel is also a popular dessert, especially in Trieste where it is called Strucolo, and stuffed with apples, or other seasonal fruit.