Select the school where you want to attend your Italian Cooking Course!

The cuisine of the Marche region is rich in tradition and specialties with a domestic taste, thanks to the characteristics of its territory, alternating mountain areas and coastal areas.

The heart of the typical products of the region is certainly the truffle. In particular the city of Acqualagna is called the capital of the white truffle, the most precious and polished. Its use in the cuisine is varied: scratched on pasta or on soups, dissolved in cream to combine with crunchy croutons; a unique flavour that can satisfies even the most refined palates and that can be enjoyed in many Farmhouse Marche, transformed into beautiful restaurants deep in the green hills.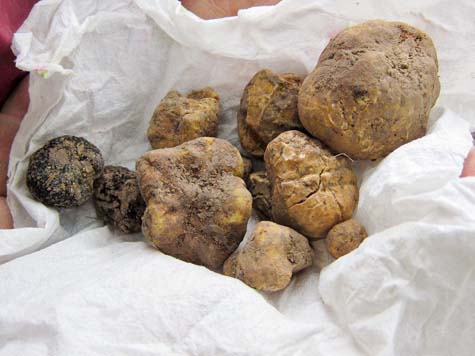 White Truffle in Le Marche
The use of the pig is very widespread in the region to produce different kinds of meats: sausages, salami, pork loin that go perfectly with two specialties, the "Urbino Crescia" and the "Easter Crescia", made ​​with cheese.

In the area of ​​Ascoli is famous its typical fried, made of olives stuffed with meat, breaded and fried and cubes of cream, breaded and fried, called "cremini". In the northern part of the region two exquisite cheeses are produced: Caciotta of Urbino, made of sheep's milk and beef and "Formaggio di Fossa", an aged cheese very characteristic of the area Cartoceto.

No less important are the first courses: "Cappelletti", "passatelli", the "patacùc" with beans (typical of Pesaro) and "Vincisgrassi" of Ancona.

Moving from the hinterland to the coastal area, you can enjoy delicious dishes of fresh fish; especially the city of Fano has developed a rich gastronomic culture of fish products. The main dish is fish soup in its different versions: "red" with tomato and "yellow" with saffron.

To the end of the menu, it lacks a mention to some fantastic desserts. Typical of the hinterland is the "Bostrengo", cooked with honey, figs and citrus peel; the "black pudding" made of bread crumbs, rum and cinnamon and the nougat.

No dish can be better enhanced that with a glass of wine and the region have a production of selected wines, using very precious grapes. The most famous wine is certainly the "Verdicchio DOC" (Denomination of Controlled Origin) produced in the areas of Matelica (Macerata) and Jesi (Ancona). There are, however, many white wins of excellent quality of the region: "Bianchello", "Falerio of Ascoli hills", "Esino". Among the red wines, instead, we can remember the "Lacrima di Morro d'Alba", "Pergola Rosso" and "Piceno Rosso".