learn Italian in Italy

Learn the language, get to know the culture in a beautiful seaside town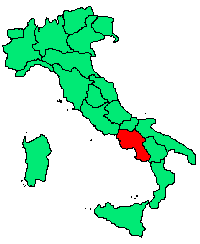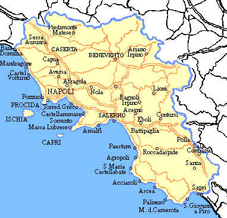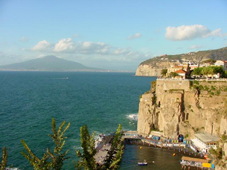 Sorrento Lingue
Centro Linguistico Internazionale Sorrento Lingue
Via S. Francesco, 8
80067 Sorrento (Napoli)
Tel. (+39) 0818075599
Fax. (+39) 0815324140
THE CITY
Sorrento was founded by the Greeks, over two thousand years ago.
Where better to study Italian than in a town so full of history and culture!
The peninsula on wich Sorrento is located is sourrounded by beaches
and is also an excellent base from wich to explore the beautiful
nearby islands of Amalfi and Capri, as well as Pompei, Naples and Positano.
Sorreento is a beautiful, safe and vary welcoming town,
a place where you can study Italian and also enjoy
the very best aspects of the Italian way of life:
good food, good weather, beautiful scenery and friendly locals.

THE SCHOOL
Sorrento Lingue is located in the historical centre of Sorrento,
just a stone's throw from marina and beach, in a beautiful 'palazzo',
dating back several hundred years. The Italian courses take place mainly
in the mornings, with optional activities/visits in the afternoons/evenings
and the weekend. On the first day of the course, there is a 'Welcome party' and a guided
tour of Sorrento for all new students. Within Sorrento Lingue's walls, where are creating an
international community where both Italians and students from around the world can interact,
exchange cultural experience, ideas and perspectives.
ACCOMMODATION
Students can choose to stay in one of our carefully selected Italian host
families, or else in a self-catering apartment shared with other students from
our school. Much of the accommodation is within walking distance of the school.
If the main aim of your visit to Italy is to study Italian and learn as much Italian as
possible in the time available to you, we would reccomend host family
accommodation, as naturally you will then be speaking Italian and listening to
Italian throughout your stay. For those who wish to have a litle independence, we
can book a studio apartment with cooking facilities and private bathroom in
residences in the city center. It is also possible to choose among a wide range of
hotels, from one to five stars, in the city center and surrounding area.
THE COURSES
ITALIAN LANGUAGE AND CULTURE Sorrento Lingue's Italian language courses are
divided into six levels consistent with criteria of the Council of Europe:
Beginner (I), Elementary (II), Pre-intermediate (III), Intermediate (IV),
Upper Intermediate(V), and Advanced (VI). If a student has previous Italian
language experience, a test will be administered in the beginning of the course
to determine placement. Sorrento Lingue offers group, individual, and other
custom-tailored programs for students with more specific needs
(i.e., Italian university preparation, business Italian).
TALIAN CUISINE Learn how to prepare traditional Italian recipes as well as dishes
unique to Sorrento and the Campania region. Our instructor will lead you on
a gastronomical tour of Italy and teach you the secret of preparing Mediterranean
food (i.e., handmade pasta, gnocchi, fish). Each course is designed as a full meal,
including antipasti, primo piatto, secondo piatto, and dolce.
ITALIAN CLASSES Learn the techniques of working, decorating and baking clay
the craftsmens' way in a typical, Sorrentine caramics studio. On request,
excursions can also be arranged to Vietri, one of the most famous and beautiful
towns on the Costiera Amalfitana, known worldwide for its ceramics.
VOICE LESSONS Led by Maestro Federico De Curtis, former tenor of the Teatro
San Carlo in Naples, Sorrento Lingue Offers both professionals and beginner-level
voice training courses. Professional courses cover techniques and interpretation on
Italian opera and Neopolitan songs, voice laying, and breathing emission.
Beginner classes enable future talents to develop their vocal and respiratory
techniques through Italian and Neopolitan songs.