Our partner schools in Palermo
Università di Palermo - Our mother tongue teachers are highly qualified and they all hold a university degree plus relevant qualifications in education – a postgraduate diploma or a PhD. The teaching staff is continuously trained through a life long learning programme on the most up-todate teaching methodologies. The teachers are regularly evaluated through satisfaction questionnaires filled in by the students and through the supervision of senior teachers and trainers. Italian students from the University of Palermo will support you during your studies in Palermo, in social and entertaining activities

Sicilia school - The "Sicilia" school organizes Italian language courses for foreigners in Palermo and also organizes cultural tours and Study Travels in Sicily

The City

Palermo is situated in the North-West of Sicily, it is washed by the Tyrrhenian Sea and offers a wide range of landscapes and environments.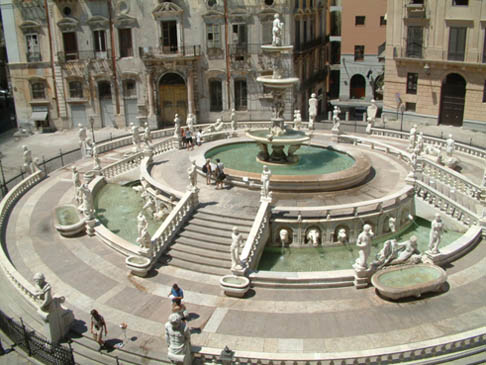 The Renaissance fountain in the Piazza Pretoria in Palermo
The town extends in the Conca d'Oro plain, in front of the wide and wonderful gulph, which it has taken the name from. Palermo has got a privileged position and a mild climate, that favors the presence of a luxuriant vegetation.

How to reach Palermo
After having crossed the Straits of Messina, you can take the motorway A20, that connects Messina with Palermo. This motorway is unfinished and the traffic is often slowed up, but it gives you the possibility to enjoy a beautiful landscape


Otherwise, you can arrive in Catania and, from there, you can take the A19 Catania-Palermo, always driving on the motorway.
The international airport Falcone-Borsellino Punta Raisi is 30 Km away from the town and it is connected to Palermo by the motorway A29 (Palermo-Trapani), by a railway and bus network